Tobacco/Vaping Course Completion Guide
In efforts to educate students on the consequences of vaping/smoking, a new module by the Florida Department of Health will now be offered by the Walton County School District (WCSD). This module will be assigned to students who receive a first offense for vaping/smoking while at school. The three-hour course, which is written specifically for high school students, presents the dangers of tobacco, hazards of e-cigarettes, the manipulation of the industry, and how to develop refusal skills.
WCSD students may complete this course in leiu of 1 day of their imposed suspension.
WCSD students must complete the online course and administration must receive verification of course completion prior to the end of the first day of the student's suspension in order for a subsequent day of suspension to be lifted.
To begin and complete the course, please follow the steps below.
Step 1: Click the course registration link provided to begin your sign up for the online course.
Step 2: Complete the online registration by providing the requested information.
IMPORTANT
Provide your school administrator's email address (brian.michie@walton.k12.fl.us) as the "administrator/registrar" (pictured below). This will ensure that your school will recieve a copy of your completion certificate and verfiy your successful completion of the course.
Please make sure to use a valid and accessible email address during your course registration. Your login credentials will be sent to the address you provide.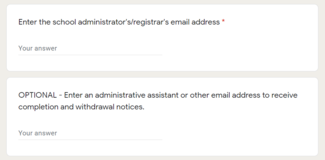 Step 3: You will receive your course login credentials within 24 hours at the email address provided during registration.
Step 4: Use your credentials to login and begin the online course. (pictured below)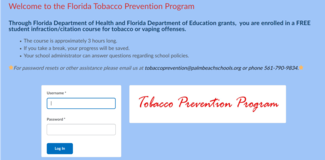 Step 5: Following successful completion of the course, a certificate of completion will automatically be emailed to the user address on file and the address of the administrator/registrar.
If a student elects to not complete the course after 7 days, a course withdrawal email will be automatically emailed to the user address on file and the address of the administrator/registrar.
For any course-related questions please email TobaccoPrevention@palmbeachschools.org or phone 561-790-9834.