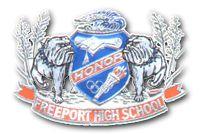 The History of Freeport Senior High School
The city of Freeport began in 1830 when settlers were drawn to the natural harbor near the confluence between the Choctawhatchee Bay and River. The settlement grew as river traffic between Pensacola and other population centers up the Choctawhatchee River increased. The settlement earned the name "Freeport" as river traffic was not charged a fee to dock at the port (freeportflorida.gov).
A six room elementary school was founded in Freeport in 1943. During this time, students attending high school travelled to Walton High School in Defuniak Springs. Freeport Senior High School was founded in 1965. Originally it served not only the students of Freeport, but also the students of South Walton as it was the only secondary school in the area. The orginal graduating class featured 29 students. The current Freeport High School campus was constructed in 2001 and began to exclusively serve the students of Freeport and its surrounding areas.